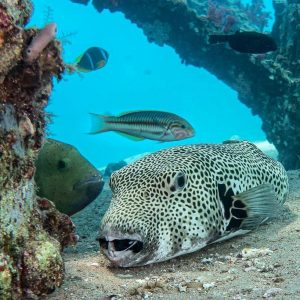 First of all we are going to situate ourselves. Jordan barely has 25 kilometers of coastline on
the Red Sea , but the quantity and quality of its corals is tremendous. You don't have to go to
Southeast Asia or the Mexican coasts to enjoy one of the best dives on the planet. Compared
to its neighbors, the Jordanian shores are better for diving than its Israeli neighbors. However,
it is true that the coasts of Egypt have greater wealth; although they also have a much larger
coastline.
The Gulf of Aqaba has the characteristic of having very few sea currents, this makes it the
the perfect destination for the beginner diver with little experience or for those who are new to
this sport. This does not mean that it is not an interesting place for experienced divers. There
are diving areas where the coral walls sink hundreds of meters, ideal for those who have
already had many dives behind them and are looking for something more.
All those who do not have any diving certification can do the dives known as Discover Scuba Diving.
For this, it is not necessary to have the PADI Open Water certification or any
previous experience. In our case we did not have the certificate, nor did we have time on this
trip to get the certification there, so we opted to do a couple of them. We had already dived in
Costa Rica before, but as in Jordan, what we did was a Discover Scuba Diving of two dives,
since we did not have any type of certificate.
During a Discover Scuba Diving, they give you a preliminary explanation of the basic
handling of the equipment, the signs used underwater and certain issues to take into account,
such as the safety stop before surfacing. Also, before submerging, you carry out certain
maneuvers with the goggles to remove the water put the bottle nozzle back on if it comes
loose… certain questions to solve simple unforeseen events that may arise during the activity.
In any case, there is no need to worry, at all times you are accompanied by an experienced
monitor who knows how to act in the event of any unforeseen event.
Which company to choose for diving in Aqaba

In Aqaba and the rest of the Jordanian coast, there are many companies that offer diving
services. In our case, we opted for Camel Dive Center, with whom we had a great
experience. First of all, I wanted to tell you that we collaborate with them, but that does not
mean that the opinion we give is conditioned or modified for this reason. We are always
sincere and if we like something we say it, and if not, too.
In the map at the end of the post you have the exact location. There is parking right there to
be able to leave the car without problems. As for the equipment they use, it was in good
condition. There were wetsuits, goggles and fins of all sizes. As for the cylinders and other
devices used during the dive, I can't tell you if it was top quality or not, we don't understand
these issues. But everything was great during the dives. They also have their own showers
and changing rooms to remove the salt from the sea after the dives.
The instructors are young people (from twenty-something to thirty-something), but with a lot
of experience and dives behind them. They know perfectly the coast of Aqaba and they know
where the points of greatest interest of each dive site are. They are used to receiving people
who are new to this, so if this is your case, surely you feel comfortable with them.